Yellowstone Anyone?  Heck yes!
Last year, my dad, who lives in Michigan/my hometown, indicated interest in planning a trip to Yellowstone.  I have always wanted to go there, so I said "let's do this!"  Reservations for park lodging are best obtained a year ahead of time, and open May 1 for the following year.  Therefore, on May 1, 2017, I spent several hours hitting redial to get thru to Xanterra on the phone to secure our lodging.  Xanterra is the sole operator for lodging within the park.  The trip dates that we had decided upon were week of June 10, 2018.  The timing worked well for my little sister, who attends undergraduate studies at Oakland University (yes, there are 23 years difference in our ages)!  Yellowstone June 2018  – Here we come!
Travel companions
Dad (Bruce J)
Bruce J's wife (Kim)
Little sister (Julia)
Mr. HG
Me
Itinerary
Dad, Kim and Julia decided to fly into Portland, spend several days with us first, and then we would pile into the car and drive the distance (12 hours one way) to Yellowstone.   We decided to spend the first 2 days in Jackson, WY exploring Grand Tetons National Park, and then to drive north up into Yellowstone.  Lodging requirements for us:
Private, in room bathroom.
2 separate rooms at each location.
Lodging in the park in Yellowstone to minimize driving
Cost per room ~ $150 per night.  The previous year I had started travel rewards optimization.   I was amassing credit card sign-on bonuses of travel reward points in exchange for meeting minimum spend requirements on the credit cards.  However, credit card rewards were not an option for lodging within Yellowstone National Park, so we were tasked with optimizing our lodging expenses as best we could.
Our plan: 2 nights in Jackson, 2 nights in Old Faithful area, and 2 nights in the Canyon area.  I had completed trip research on Trip Advisor  Yellowstone Forum, which was super helpful with all aspects of our planning.
Using credit card reward points thru the Chase UR travel portal, I secured lodging (2 rooms, 2 nights) in Jackson at The Lodge at Jackson Hole.   I then secured reservations for 2 nights in the Snow Lodge Frontier Cabins at Old Faithful (basic duplex-style cabins with in-room bathroom, $123 per night + tax) and 2 nights in Canyon Lodge (standard style hotel room, $152 per night + tax).  So far, so good; doing well with the trip budget.   In retrospect, it probably would have been a better redemption by transferring UR points to a Chase hotel partner like Marriott. Travel Rewards rookie mistake.  But, as it turns out, The Lodge at Jackson Hole was super nice, and it included free breakfast and Wi-Fi.  We were happy with our choice.
Here is a helpful map providing overview of the parks.  I poured over this map while planning our trip and routes to avoid backtracking.  Yellowstone is huge.
Trip Planning
We wanted to minimize eating out for both the cost savings as well as the health benefits.  Bruce J follows a plant-based, very low fat diet, so we were hoping to incorporate much of that into our meals on the road. I planned a menu of make-ahead and freeze meals which would be easy to reheat on a camp cookstove in picnic areas.
Items on our menu plan (all vegan, low to no added oil)
Veggie burgers (These were amazing!)
Vegan Chili from the Choose FI recipe vault
Ethiopian Lentils and naan also from the Choose FI recipe vault
Veggie soup
Vegan spaghetti sauce (with meatball addition for carnivore Chip)
Hummus and crackers/chips
Trail mix, granola bars, fruit, yogurt, and an assortment of other snacks
Egg kiesh casserole, cereal/milk and oatmeal for breakfasts
I batched-cooked and froze the meals in the weeks leading up to our trip.  I typically batch cook on the weekends, and then freeze leftovers into individual portions for yummy/healthy lunches and dinners during the week.  So our trip meal planning fit right in with my typical routine – only I made double recipes.  I froze the meals we would take in 8 cup containers.  The container contents would transfer perfectly into our camping cookstove pots for reheating.  The containers would slowly thaw in our cooler over the course of the week, and we would just need to replenish the cooler ice each day.  I also tucked in a bunch of frozen water bottles, which we then proceeded to drink as the thawed and then refill to hydrate during our trip.  We brought along a second, smaller cooler which we would fill with whatever provisions we needed during the course of the day.  This minimized repetitive opening of the larger cooler storing our frozen meals.  This plan worked really well, and we ate out a only 3 total meals the entire trip.
Park entrance fees:  My Dad had purchased the Lifetime National Park's Pass available for seniors for $10.  This includes entry for the pass holder, and everyone in the vehicle.  So we had our entrance fee all taken care of.  It is an absolutely amazing deal!  The price has gone up to $80 now for a lifetime pass (still not a bad deal).
The Trip
Day 1 – Travel day
Travel from Portland to Jackson, WY.  We departed Portland at 6 am driving thru the beautiful Columbia River Gorge, thru Eastern Oregon, Idaho, and into Wyoming to Jackson.  Eastern Oregon is incredibly beautiful, particularly the Wallowas.  The Wallowas warrant a return trip to fully explore, and I am adding it to the bucket list.  Our hotel, the Lodge at Jackson Hole, was as lovely on site as it was on the website.
Day 2 – Jackson, Jenny Lake/GTNP
Before breakfast, Dad and I headed out to explore the sight.  For me, 0ne of life's greatest delights is to explore a new city before the hustle and bustle of life begins.  It helps that I am naturally wired for early.  My dad is the same way.  We drove around the town of Jackson, and explored the elk preserve there.  It was not high season for the elk in June, but my understanding is that the place is filled with elk during the winter (they are provided supplemental feed, and it is quite controversial).
My dad is always so much fun to spend time with.  He derives much pleasure from even the most mundane things.  For example, he gets such delight  from picking blackberries when he visits in late summer.  These bastardly weeds grow everywhere, and I am constantly chopping them down from our property line behind the house.  He loves the fact that he can walk outside and pick buckets of blackberries.  For free.  And he outwardly marvels at the delight of it.  (It is pretty cool, although the thorns are a bit of a nuisance).  In any case, he was so excited about the "amazing gourmet breakfast" that was available at the Jackson Hole Lodge.  It's the simple things, right?
Day 2 also happened to be Kim's birthday.  One lovely patron overheard us wishing her a happy birthday.  He proceeded to begin a rousing rendition of "Happy Birthday" and the rest of the breakfast crowd joined in.  It was touching that he would do that, and we got a kick out of it.
Amazing TIP:  I highly recommend the GyPSy Guide(available as app in iTunes)  This narrated tour guide works off of GPS, and was an amazing addition for our trip for only $10 (included Grand Teton and Yellowstone both).  We named our tour guide Phil.  It was a pleasure for me to not feel the need to count miles or have my nose in my travel book.  Phil told us where we should be making our turns. (TIP:  there is limited cell services throught the area, and WiFi is also limited.  Download needed items prior to arrival and plan to be off grid!)
We opened up the GyPSy Guide and we were off.  We had a loose plan to drive clockwise around the loop from Moose  Junction to Signal Mountain, and then thru the Snake River valley to return to Jackson, stopping at locations recommended by our GyPSy Guide narrator, Phil.  The Tetons were amazingly beautiful.  We stopped to snap a bunch of photos, and proceeded to the Jenny Lake area.
The Jenny Lake area is stunning.  The Lodging there is undergoing renovations, and I imagine it will be stunning when it reopens.  There is a boat trip across Jenny Lake to Hidden Falls and Inspiration Point, or you can hike around the lake to reach these areas.  We elected to do the hike around the lake to the falls and to Inspiration Point, and take the boat ride ($9 one way) for the return trip.  We were able to see a mouse at Mouse Hole, which was cool.   I was not able to get a very good photo, as it was a bit in the distance and I left my zoom lens in the car.  But we had our binoculars.  The hike was gorgeous.  Pictures do not do it justice.
We had a picnic lunch at the String Lake picnic area (hungry after our hike!)  Lovely spot for a picnic.  We proceeded to drive towards Signal Mountain, and took the signal mountain drive to the viewpoint to see the Jackson Hole valley.  This is an amazing place to see a birds eye view of why early explorers describe the area as Jackson Hole.
After our adventures, we were a bit tired, so returned the hotel to clean up for dinner.  We had planned on dinner out to celebrate Kim's birthday – and ate at Sidewinders American Grill, which had been featured on Diners, Drive-ins, and Dives.  It was conveniently walking distance from our Hotel.  We then ventured into downtown Jackson to wander around the shops.  Had a really great time browsing, and purchased a necklace for our dog-sitter Kayla.  Stumbled into a taxidermy shop and was able to snap some photos of Chip with the Chipmunks – the photo that I thought would prove elusive…  Off to bed after dinner and shopping.
Day 3 Depart Jackson, explore Jackson Lake, and head into Yellowstone
Another am early exploration with Dad.  I wanted to get a sunrise photo of John Molton barn/Mormon Row with the Tetons in the background.  I think this is probably the most photographed barn in the US.  Dad was limping with a swollen Achilles tendon, but was still wanting to accompany me for the photo session.  The pics were great!  Scenery amazing.   I dropped Dad back at the hotel and stopped to get some gas and wash the bug guts off the windshield.  I also stopped at the local Albertsons to purchase a straight cane and some NSAIDS for Dad's swollen achilles tendon.  We had some breakie in the breakfast room, packed up the car, and checked out of the hotel.  We planned to explore the Jackson Lake area in GTNP on our way up to the Yellowstone South entrance.  Our destination by late afternoon was to arrive at the Old Faithful basin area to check into our Snow Lodge Frontier Cabin.
We stopped both at Signal Mountain Lodge and Jackson Lake Lodge.  You are able to rent all types of water craft at the Signal Mountain area, which would be fun for a future visit.  Jackson Lake Lodge is absolutely stunning, and I can see us staying here in the future.  The deck off the back of the lodge has amazing views and opportunities for wildlife sightings.
We found a lovely place for lunch (also with great view of the northern end of the Teton range and said Farewell to the grandeur of the Tetons.  We proceeded to enter Yellowstone National Park via south entrance, and spent some time exploring Yellowstone Lake and West Thumb Geyser Basin before making our way up to the Old Faithful geyser basin area.
Upon arrival to Old Faithful area, it was a little confusing to find where to check in for the Snow Lodge Frontier Cabins.  It was late afternoon on a beautiful day, too, and the place was hopping.  We eventually found where we needed to go, checked in to the cabins, and unloaded the car.  We had both sides of one duplex cabin.  The cabins are rustic/basic, and dated.  We knew that prior to booking –  you are truly paying for location, location, location.  I was delighted that there was a coffee pot in the cabin, with lots of packets of regular coffee.  I love me my morning joe!
After unpacking the car and getting settled a little, we proceeded to explore.  We walked over to the Old Faithful Visitor's center and did a little browsing while waiting for the next Old Faithful eruption.  We did not need to wait long – and Old Faithful, in true form, did not disappoint.  Geyser eruption predications are posted at the visitor centers, and there is also a channel available on walkie talkies.  For future visits, I think I will borrow walkie talkies from a friend.  It would have been helpful and fun to have that available.  Note for next time.  Make us realize how reliant we have become on our cell phones, now with essentially no capability to provide information without cell service.
We ate dinner in a picnic area near the cabins, and the mozzies were intense.  The next day applied Mosquito repellent, for sure.
Dad, Kim, and Julia retired to their cabin.  Dad was a bit fatigued with his sore achilles tendon, and really needed to ice and elevate his leg.  Mr. HG and I were a bit restless, and decided to do a little more exploration before the sun set.  We wandered over to the Geyser Basin and did the short loop of geysers north of the Old Faithful Geyser.  It was breathtaking to see so many thermal features packed in such as short distance.  I really had no idea.  We snapped some pictures as the sun was setting, but needed to keep moving with the intense mosquitos everywhere.  We stopped in to see the Old Faithful Inn, which is truly a glorious work of art.  I would definitely consider staying at the Inn for a future stay.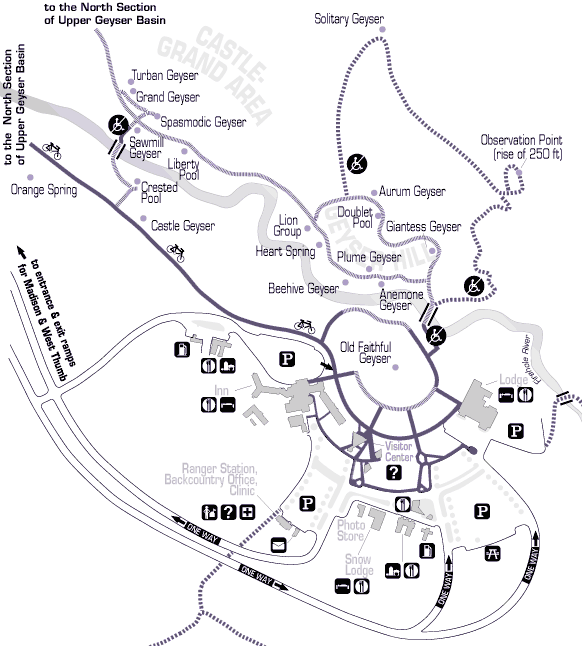 Day 4 Geysers, Geysers, Geysers
Dad and I woke up for an early morning stroll.  He was walking much better after the previous day being compliant with NSAIDS, ice, elevation, and using the cane that I insisted he use (the therapist in me does know what she is talking about, after all).  We saw Old Faithful erupt, and I took him around the short loop of the geyser basin and then in to Old Faithful Inn.  It was a lovely cool morning, and the weather was predicted to be clear but windy.  We went back to the cabins and ate breakfast – cereal, and oatmeal prepared with heating water in the coffee machine, and yogurt.  We then walked the lower geyser basin with the group.  Snapped lots of photos.  We went all the way to the end to Morning Glory geyser, used the restrooms there, and then headed back.  We knew that Grand geyser was predicted to erupt within the next 1.5 hours, so we headed that direction and took a seat on the benches surrounding the geyser.  There were lots of people gathered around, so it was fun swapping stories with the other travelers.  Grand did not disappoint, and we were treated to a concert eruptions of Grand, Turbine, and Vent geysers.
We ate a picnic lunch at the old faithful snow lodge lobby, and then proceeded drive up to the midway geyser basin.  I was itching to see the famed Grand Prismatic geyser.  By this time, the winds had kicked up, and it was still pretty cold out.  There was a lot of steam around the geyser, and pretty scary with the winds whipping on the boardwalk.  There were a lot of people around, and some individuals were not shy at pushing right past you.  It made me a bit uncomfortable.  I had visions of falling into the super hot thermals.  We snapped some photos of the Grand Prismatic and wandered around the boardwalks for a while.   A future trip I would like to take the hike to the overlook to the Grand Prismatic spring (trailhead is about 1 mile south).  It was pretty steamy with the cold air and steam rising from the thermals, had had heard the visibility was diminished, so we elected to defer it this time.  This is a beautiful spot, and a must do when you are in Yellowstone.
We ate dinner at a picnic area (heated up chili and crackers) and proceeded back to our cabins for the night.
Day 5 Depart Old Faithful and Head to Canyon area
Did a solo walk in the am – was treated to close encounter with a Bison just off the path.  He came around a big shrub as I was walking down the  path.  I watched him for a while, snapped some pictures, and then turned around as he was staying pretty close to the path.  It was a pretty morning, and it was nice to capture some sunrise shots.
We had breakfast in the cabin rooms (cereal/oatmeal, coffee, egg casserole) and packed up the car and proceeded to head over to the canyon area.  It had begun raining a bit.  We stopped on additional time at Grand Prismatic, but it was too steamy to really see anything.  Proceeded up to the Canyon area, stopped at the visitor's center, found our hotel area.  It was mid-day, and too early to check in, so we continued north up towards Roosevelt and Lamar Valley.  On the way north, we were treated to a grizzly sighting right by the side of the road.  He was a juvenile, and was sporting a tracking collar.  We stopped at Tower Falls rest area and browsed the shopping area, and got some coffees.  Enjoyed stretching our legs a little, and viewing the falls.  Proceeded to Lamar Valley.   The rain had thankfully stopped, and it was slightly overcast.  We stopped at a picnic area for some lunch, and continued with our exploration.  Lamar Valley is Glorious.  Stunning.  Vast, and filled with amazing animals.  We sighted tons of bison, pronghorn, deer, pika, marmots, and eagles.  The weather was good for wildlife sighting, and we really enjoyed ourselves.
We drove out of the park to Cooke City.  Our tire warning lite was on, and we needed to stop and check pressure, and possibly add some air.  I was considering having us continue to drive and explore Beartooth pass, which I have heard is breathtaking.  As it turns out, officials had just closed the pass due to whiteout snowstorm.  We ran into travelers later that evening and the next day who had been caught up on the pass.  I understand it was a harrowing experience, thankful that we did not get caught up in it.  Cooke City is a super quaint town, and locals there must brave some crazy winter weather.  Hardy folks, for sure.
We returned to the canyon area and checked into our hotel rooms.  We had rooms adjacent to one another on the 3rd floor in the Hayden Building.  The hotel made up of variety of separate buildings.  The Hotel is new, just opened 2 years ago.  It is one of the most efficient uses of space that I have seen.  It was very clean and modern, and environmentally friendly with recycling bins in room.  The one thing missing was coffee maker in the rooms.  I can do without a TV and WiFi, but I do miss my morning coffee.  They do sell coffee in the main lobby beginning at 6:30, and we made use of that service.  We checked into our hotel and then ate cold leftovers and snacks for dinner in the room.
Day 6, Our Last Full Day in the Park
We woke up to rain again, but promise of clearing like the day before.    Keeping up with my typical style, I got up early and began to do a little exploring before the rest of the group could shake off the sleepies.  I grabbed my camera and hopped in the car.  It was still slightly dark, and I took it slowly on the roads, knowing that animals are on the move at this time of day.  And they did not disappoint.  I headed south down thru Hayden Valley.  My car at one point was surrounded by bison as they migrated down toward the river.  These beasts are BIG.  I continued down to Fishing Bridge, hopting to spot a bear or two, but they were not out fishing in the rain.  Stopped at Mudd Volcano area (and we stopped there later in the day again).  In the morning, I was the only one at the thermal area.  The area is the stinky-ist, most acidic thermals in the area.  Super cool.  I hopped back in the car and stopped at the hotel lobby to buy coffees to take back to the group.
The group got up and going for our last full day in the park.  We ate cereal and protein bars for breakfast, hopped in the car.  It was raining, but promise of clearing.   We drove down to the south rim and stopped to snap some photos at artist point.  Beautiful location.  We proceeded south to Mudd Volcano, and then backtracked north to do the northern Yellowstone loop clockwise.  It was raining, so did not stop at Norris, electing to come back in the pm once it was more clear.  We stopped at Roaring mountain – the side of a mountain with a variety of thermal areas hissing from the hillside.  Cool.  Continue on to sheepeater cliff area, and hung out here for a bit, chatting with other travelers, and snapping some pics of the critters which call the rocky area home.  We continued north to Mammoth Hot Springs and drove around the hot springs.  We did not get out and hike/explore much here, but Mammoth area is definitely an interesting thermal feature with the amazing terraces.
We continued around the loop enjoying the scenery and stopping every now and then.  Had another lovely picnic lunch at Wraith Falls picnic area.  Continued on to drive out Lamar Valley for about 10 miles.  We were getting weary of being in the car, so headed back to the Canyon area to wander around Canyon Village on foot for a while.  We grabbed some dinner in the hotel room – hummus roll-ups and string cheese, and other snackies.   The weather was perfect, and we decided to head to Norris Basin to explore a little.  Steamboat Geyser – the largest in the US –  had been erupting recently after years of dormancy, and had just erupted the week prior.  Would have been cool to catch it (as it turns out, we just missed it by 1 day!).  We saw some stunning scenery and caught some cool pics.  Norris Basin is a really active, cool thermal area which is constantly changing.  I would love to go back there and explore some more.  We were pressed for time as the sun was setting, and we needed to drive the 15 miles or so back to Canyon.  You definitely don't want to be navigating the roads after dark.  It would be a recipe to hit an elk.  We were treated to sightings of elk, deer and a coyote catching a snack.
Day 7 Return Trip Home
We woke up to rain, and the forecast for the next week in Yellowstone called for cold rain.  We felt fortunate that our trip was ending and that the week we were there was pretty nice.  We packed up the car, stopped in to the hotel lobby to grab some coffee, and headed out.  We planned to return a different path than we arrived, traveling out the West Yellowstone Gate, past Earthquake Lake, and thru the state of Montana, northern Idaho, and then across eastern and central Washington before dipping back south to the Columbia River Gorge.  The state of Montana and northern Idaho panhandle were beautiful, and I was glad that we went that direction.  We stopped for some brunch in Butte, Montana and headed out back to the homestead.
It was a lovely trip, and I hope to make it back there someday.
In Good Times, Happiness, and Health.